QDHS.ch– Logo and website (2012)
QDHS-Quality dental Hygiene Services specializes in sourcing dental hygiene professionals at short notice to specialty and general dental practices in Bern, Switzerland.
Garabatos Spielgruppe Logo (2012)
A bilingual Spanish-Swiss German playgroup. The word "garabatos" means doodles in Spanish. Design based on actual toddler doodles.
AWC Bern Logo redesign (2012)
Logo redesign for the American Women's Club of Bern. Although the final product is very similar to the original, its redesign makes it seem more vibrant, modern and updated. Using the correct amount of stars and stripes, and the correct color tones for both flags brings the outdated logo into a new era.
PAGES Goa Conference postcards and poster (2012)
Set of postcards and poster to promote upcoming scientific conference in Goa, India. Using the existing conference logo, the postcard design is based on ancient Hindu mythology, while the poster uses bold typographic elements to create structure and draw attention to the conference details.
Kolibri logo and flyer (2012)
Logo and flyer designed for a playroom for children up to 6 years. Bright, colorful and playful, it stands out as a fun children's activity.
Wirtschaft Borisried (2012)
Logo redesigned to achieve consistency throughout the various uses. Brochure created to highlight their services and offerings. Project in conjunction with werbal.com
LAPF-Latin American Pathology Foundation logo (2012)
A non-profit organization created to promote the progress and practice of Pathology and Laboratory Medicine among Latin American pathologists.
Scrappin'Stuff logo redesign (2012)
Logo for an online retailer of scrapbooking supplies.
WAC-Women's Activity Club logo  (2012)
Logo redesigned to make it more modern and relevant. the tree and balloons in the original logo were repurposed to create a bright and colorful image.
Familienbegleiterin.ch
Logo, website and promotional materials for an instructor that provides courses and classes for baby early development and parenting help.
Eurofamilias logo
Logo for a website that lists service offerings in Spanish, specifically for Latin families living in Switzerland.
Tiny & Sweet logo and website
Tiny & Sweet –bite-sized treats provides small desserts such as mini-cakes and cakepops. Website created with the wordpress platform for easy updating and editing.
BERNnet logo redesign & promotional materials
Bern English Resource Network. A network of freelance professionals offering services in English in and around Bern. Designed based on previous logo, it was simplified  to make it more modern and legible, and to reflect the colors of the flag of Bern, Switzerland.
Journal Covers
Chemical illustration Cover design for ChemComm, chemistry journal.
esp-bern.ch
Website created for the English Speaking Playgroup in Bern. Colors reflect their pre-existing logo, and the photo bubbles provide a gallery space in every page while adding some playfullness. An easy to navigate layout was a main concern for the client.
Erica Holt – language services
Logo Created for a language specialist who focuses on translation services.
Mehendi logo
Logo created for a henna tattoo artist in Mexico. Type treatment achieved a play between old-world and modern, which reflects the nature of the
hennawihouse.com
Website and logo designed for a henna and body painting artist. A gallery that links to a flickr account makes it easy for the client to update. Color scheme suggests a rich and fresh henna tattoo.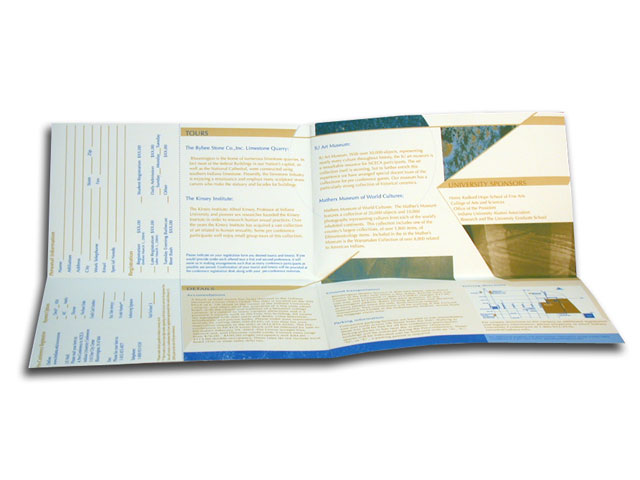 Tangents: ceramics and beyond
Conference brochure for the Indiana University Ceramics department. Designed as a promotional self-mailer, as well as a conference program.
peopletopeoplepress.com
Designed for a publisher of limited edition artist's books to showcases their work. Each book available is viewable with a series of thumbnails that open on the same page, along with a description of the book. Work for this website included aiding in the design process and building the site.
carollynnswol.com
Gallery website for jewelry designer Carol-Lynn Swol. Information is organized on a strict grid that contrasts with the organic nature of her work. A close up of each piece is shown on the top and side of the gallery view pages, as both, a way to show detail and add visual interest.
reColl3ction
Set of 3 artist books that showcase a collection of childhood memories shared by 3 sisters. The transparent plexiglass pages help create the feeling that the memories blend together and become a collective mixture of thoughts. Personal MFA thesis project.
Hola Bloomington Logo
Hola Bloomington logo Designed for a Spanish-speaking radio station program in Bloomington IN. The stylized "talk bubble" represents the dialogue among presenters.
Family book
Collaborative book about a conversation between two artists. The form and layout represents the flow of the conversations, with a brief introduction by each artist at the top and bottom edges of the book.
Paradisso flower shop
A stylized "Bird of Paradise" flower was chosen as the image for this two-color logo designed for a flower business in Mexico.